Biography
The Mongolian poet G.Mend-Ooyo was born and raised in a nomadic herding family, where his life cons...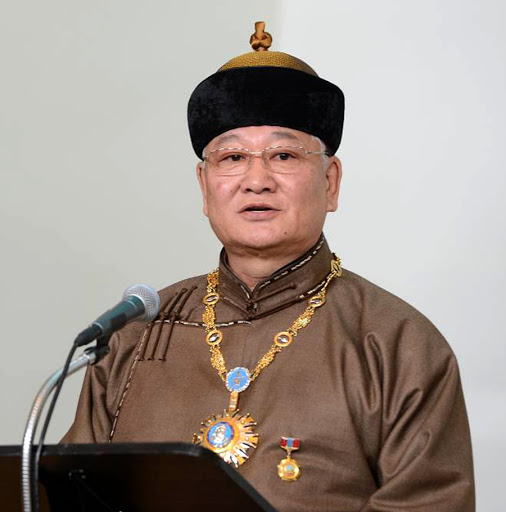 G.Mend-Ooyo
Biography
The Mongolian poet G.Mend-Ooyo was born and raised in a nomadic herding family, where his life consisted of the endless steppe, the blue sky and the stars, livestock, swift horses, the long-song, folk stories and camel caravans....He began writing poetry at thirteen, and has published some forty books or poetry, essays and fiction. His work has been translated into about forty languages.
Mend-Ooyo is also active in other areas of Mongolian culture. Since 2006, he has organised an annual exhibition of calligraphy, and between 1990 and 1996 he was involved in the development of the "Mijid Chenrezig" complex, which united Mongolian history and culture. Mend-Ooyo is one of the principal figures in Mongolia involved in the revival of traditional script culture and artistic techniques, and in the study and protection of cultural heritage.
Many commentators have pointed out that, in addition to clearly reflecting in his work the idea of safeguarding the earth and the natural world, Mend-Ooyo expresses with his gentle melodies the exquisite riches of the Mongolian language and of the nomadic worldview. Mend-Ooyo's writings deal with the life of Mongolia's nomadic herders, their culture and cultural knowledge. In his style and thematic material, he seeks to express the melody and richness of the Mongol language and nomadic society. His works has been translated into over fifty languages.

His novel Gegeenten (The Holy One) received "Golden Feather" annual award for Novel of the Year, Ulaanbaatar, Mongolia 2012. His last novel Shiliin Bogd (Sacred Hill) published in March of 2015.Mend-Ooyo has been awarded many prizes from literary organizations around the world. He received the Poet Laureate (with Golden Crown), highest poetry award from World Congress of Poets, Budapest, Hungary 2009 and has been awarded Grand Prize of the Mihai Eminescu International Academy, Romania 2014.
In 2015 he received the Order of Chinggis Khaan, the highest honor of Mongolia, by the declaration of Mongolian President.
Biography