----
POETRY and THE WISDOM OF NATURE
by G.Mend-Ooyo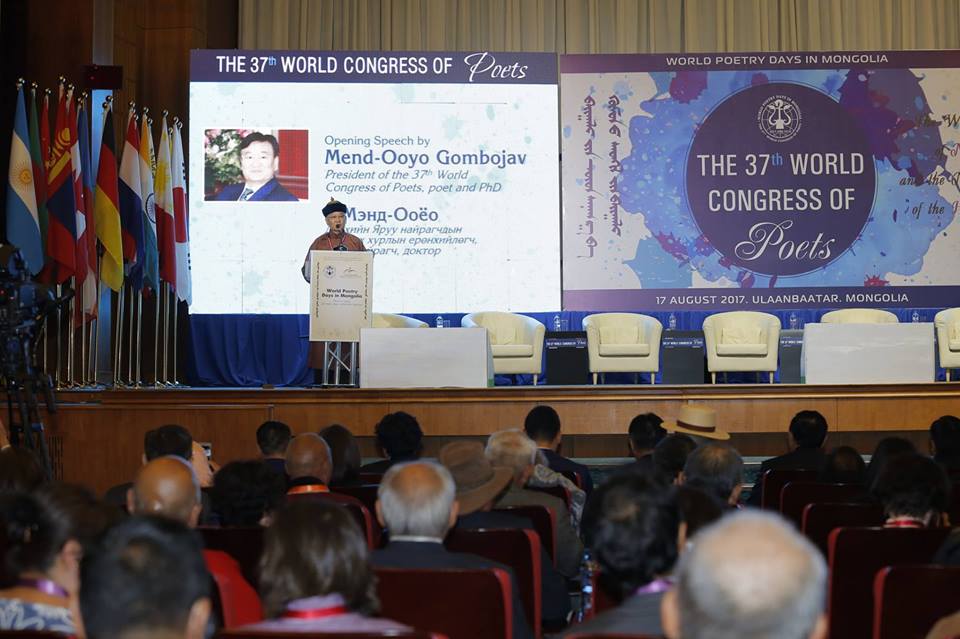 ...The voice of poets, who are the messengers of language and culture, needs to be communicated, for it expresses the heart and mind which beat through the veins of the natural world, pulsating at a single frequency, and it expresses the intuition which is the wisdom of the earth....

Check-out time for the hotel is 12 p.m. Late check-in is available at an additional charge, based on availability.

RITRATTI DI POESIA is now one of the most important events related to the poetry in the national territory and beyond.
The eleventh edition of the exhibition «Ritratti di poesia» was held in Rome, Friday, February 3 U.S., at the Temple of Hadrian in Piazza di Pietra. Mongolian poet Gombojav Mend-Ooyo was invited as a guest poet to the event, where he read his poems in his mother language. The translation of his poems into Italian by Damiano Abeni was displayed on the screen during his readings.

In Prague, the Boards of the WAAC announced Mongolia as the host country to organize the 37th World Congress of Poets (WCP) in August of 2017. Mongolian poet G.Mend-Ooyo elected the president of the congress.
It was in 2006 when the WCP was last held in Mongolia. We are honoured and delighted to host this international event once again, after a period of 11 years.
Since 1969, the WCP has taken place in many countries and has become a podium for poets from around the world to make their voices heard for world peace.
The 37th WCP is themed "The mind of nature and the nature of the mind".
The multilingual poetry festival will take place in Ulaanbaatar and the Gobi desert, and the program will introduce you to Mongolian history, culture, nomadic life, and ancient and contemporary literature. We dedicate the event to the friends, scholars, and translators of poetry from the five continents.
G.Mend-ooyo has signed and accepted the contract to publish his 10 volumes of books in Inner Mongolia during his attendance at the XXVI National Book Trading Expo of China in Bugat city, Inner Mongolia. His famous novels, "The Holy One" (Gegeenten), "The Holy Mountain" (Shiliin Bogd), his poetry collection "The Wheel of Time", and poetic novel "Altan Ovoo" are included in the volumes. Those books will be converted into the Mongol script, which Inner Mongolians still maintain and use. It is a good opportunity to deliver his thoughts through his writings to all the Mongolians in the world.
News
Minii zuulun ai - Г. Равдан /МУГЖ/
Зуны дунд сард Шар бүрдэнд бол... - Г. Мэнд-Ооёо
Нээхийн утган хэлхээ - Г. Мэнд-Ооёо
Хуучин сүмийн дээгүүр саран ма... - Г. Мэнд-Ооёо
Мичид зулзагалсан намар - Д. Жагдаг /МУГЖ/
Он цагийн хүрд - Г. Равдан /МУГЖ/
Хүлээж байгаа ээж - Г. Мэнд-Ооёо
Өөрийн эгшиг - Г. Мэнд-Ооёо
Уулсын дүрийг тайлахуй - Г. Мэнд-Ооёо
Гол ус тунгалагших цаг - Г. Мэнд-Ооёо
Ээж минь ширдэг ширж байна - Г. Равдан /МУГЖ/
Үгийн билиг - Г. Мэнд-Ооёо
Хөх нуурын хөвөөгөөр явган ман... - Д. Жагдаг /МУГЖ/
Цагаан манан гэгээн гуниг - Г. Мэнд-Ооёо
Сарны сонет - Г. Мэнд-Ооёо
Чиний хөмсөг нисч яваа тогоруу... - Г. Мэнд-Ооёо
Чамруу би явж байна - Г. Мэнд-Ооёо
Нутаг буюу гүйсэн унаганы дуул... - Л. Чаминчулуун /МУГЖ/